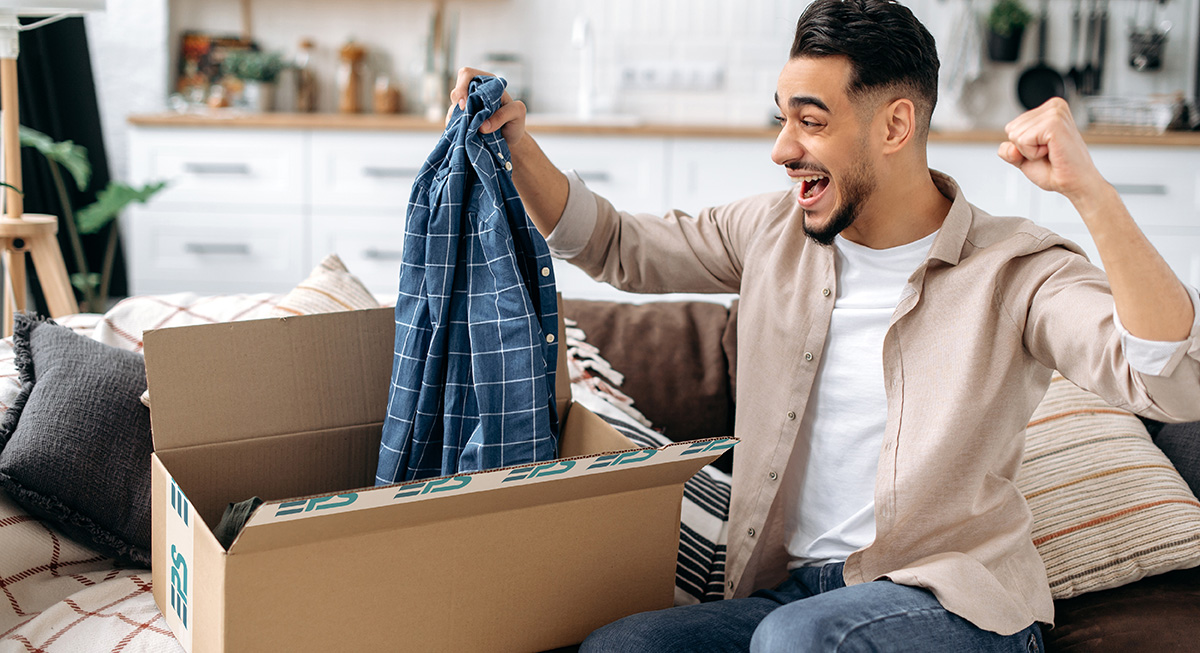 Friday October 28th, 2022
How to shop online for the very first time and not die trying
Interested in online shopping, but have no idea how to get started? Don't worry! EPS is here for you. In this article you'll find everything you need to know to make your first online purchases safely and successfully.
Following the Covid-19 pandemic, e-commerce became a vital part of the global marketplace since the Internet was the only channel where stores were able to maintain their sales and operations. Plus, the internet created endless possibilities for people who were able to start successful online businesses from their homes, changing the way they make an income.
Online shopping became so popular during the early months of the pandemic that close to 90% of the world population made at least one online purchase in 2020 and this percentage increased in 2021, although the physical stores had already reopened by then. That's why we cannot ignore these new consumer trends since online stores more offer advantages than traditional establishments. It is not by chance that several studies claim shopping online makes us happier.
To this day, more and more people discover online shopping for their everyday items, although there are those who still show resistance to change, either out of fear or ignorance. In any case, the following section is a beginner's guide for those who are getting started with online purchases and want to do it the right way.
What do I need to start online shopping?
A shipping address/mailbox in the United States
Shopping online and then paying for a shipment to the Dominican Republic can be very expensive, which is why you'll have to use an intermediary transport service to receive your purchases. Register with a courier such as EPS to have access to an account with a physical address in Miami, United States. You can join EPS for free and start enjoying all the benefits of being a part of this great family. You can be sure that your packages will reach you safely and quickly since we have more than 33 years of experience in parcel transport. Become an EPS member today!
The RUA (Dominican Customs Registration) is a single customs registry in the DR that helps to "safeguard the rights of courier services users and speed up the dispatch of their purchases online." You'll need to register, or your packages may be held by the Dominican customs authority (DGA). You can register at RUA Registry.
Create accounts in your preferred online stores
To start online shopping, you'll need to create accounts in your preferred stores. To do that, just enter your email (where you will receive all your invoices and tracking information for your orders), your shipping address (provided by the courier), and the payment method that you will use, among other information.
The payment of your purchases can be made by credit or debit cards (enabled for electronic commerce). And if you don't want to expose your payment methods online, you can even use platforms like PayPal, which is considered a more secure means of protecting their banking information. It should be noted that these days, security measures have increased, at least in most recognized stores, so you can provide your financial data with confidence.
It is essential that the online stores where you are going to shop are recognized and reliable. Ideally, you should have several alternatives lined up to compare prices. Another way to make the most of your purchases is checking out consumer reviews these are essential for online shopping, as we detail in our article titled Reviews, the real "influencer" of your purchases.
11 benefits of online shopping
There are no time limits, as you can place your orders anytime and from anywhere, without having to go to an actual store.
In some stores, online products come with better offers or discounts, and there's more variety and inventory.
You avoid long queues to pay or to use changing rooms.
You can receive, if you wish, your packages in the comfort of your home with EPS Delivery.
You can buy products that are not yet distributed in our country.
More security in your purchases.
You know all the detailed information and reviews of the item you are going to buy
You save by shopping online since some items are cheaper on the internet.
You have the possibility of comparing prices in several stores
You get coupons and discount codes
There are seasons and days of great discounts such as Black Friday, Amazon Prime Day, seasonal changes, Christmas, Mother's Day, Cyber Monday, July 4, and back to school, among others.
Tips for your first online purchase
Read all the details and specifications of the item you wish to buy. Be sure about its price and shipping cost, if any.
Always verify that the site is secure before making payments. You should see the symbol of a closed lock in the address bar and before the web address, next to the letters HTTPS.
Once your order is complete, make sure you keep proof of the transaction. They will send you an email with a confirmation message and all details of the purchase. In case you don't get it, keep screenshots, receipts or order numbers until the package is in your hands.
Save on shipping costs. Check to see if the online store or supplier offers free shipping or if they require an order minimum to do so. In that case, if your purchase does not meet the requirement, add other items to your cart to enjoy that benefit.
Leave items in your cart since it can save you money. Some stores want to close purchase cycles as soon as possible, so they send potential buyers offers via email to encourage you to complete your purchase soon.
If even after knowing all these benefits you don't dare to get started in the world of online shopping, EPS has the perfect service for you: EPS E-Shopping. It allows you to get personalized advice on your purchases from our experts in online shopping. You don't need a credit card to access this service, you can pay in Dominican pesos.
Visit your preferred EPS branch and ask for our EPS E-Shopping service today.