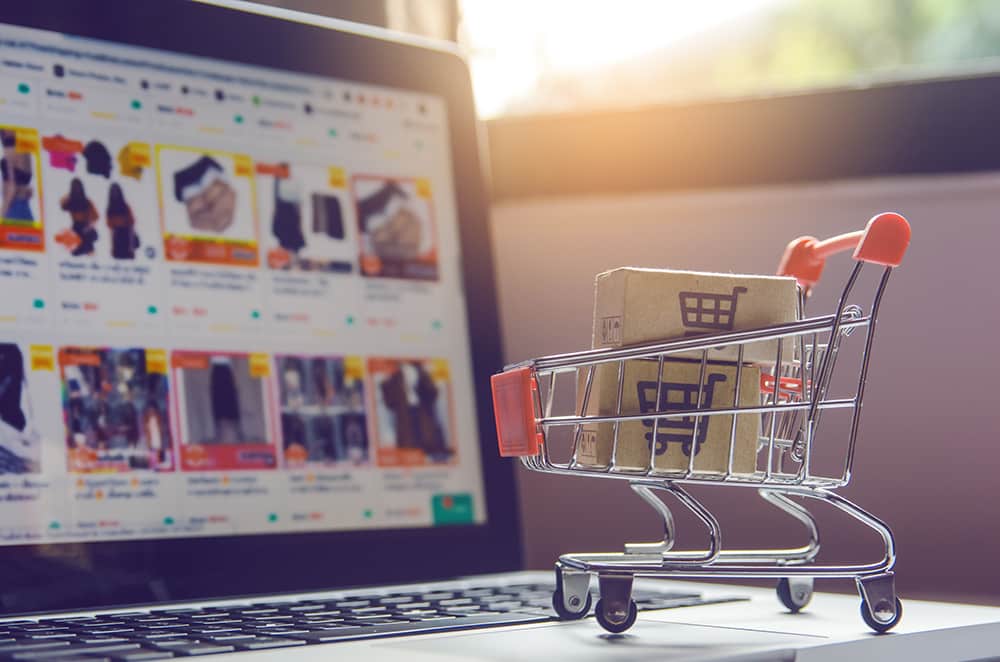 Wednesday February 16th, 2022
Top Online Shopping Retailers
Online shopping has increased in popularity massively in recent years and has become the preferred way of shopping for many people. It is by far the most convenient way to get everything you need, as it requires the least time and effort. The question then is no longer whether to buy online, but where.
In this post we are going to present you some of the best options and we are going to give you a review of each of them, with their pros and cons, so that the next time you buy you can make an informed decision about it. When you decide, remember that no matter where you decide to buy, it will come to your home thanks to EPS.
What to consider when shopping online?
The first thing you should know is what options you do not lack. Every year more virtual shopping pages appear, which leads us to think that there are more online stores than days in the year.
The wide variety of sites is good for the buyer, but sometimes when we are faced with so many options we can feel overwhelmed. That is why it is important that when deciding we take into account different factors, such as shipping costs and times, packaging, shipping process to EPS stores, and how reliable customer service is. All these elements will allow us to answer the question of how convenient it is to buy in one virtual store or another.
This list can also be used to expand your portfolio of virtual stores, so that if you can't find what you're looking for and how you want it in one store, you can find it in another.
Amazon
Let's tackle the most well-known option first: Amazon.
Who hasn't heard of Amazon? It is the most successful online shopping page in the United States and North America. On their platform you can find products from many brands, but they also have their own products, where you can find books, music, movies, technological items, clothing and many other things. Since its foundation in 1994, Amazon has not stopped growing, and the arrival of the COVID-19 pandemic has only catapulted its success to extraordinary figures around the world.
Pros:
o They offer a premium membership that allows you to receive your packages without paying shipping, in less time than the free account. In addition, you receive exclusive offers, as well as the Streaming service for series and movies
They have a very reliable customer support system
They have permanent offers
Cons:
The mobile version is a bit more inconvenient to navigate
Does not allow users to bid prices for products
eBay
While Amazon dominates the cyberspace of online shopping, it does not allow users themselves to bid on product prices. eBay is the world's largest auction site, allowing you to bid on the products you want to buy, which can be an amazing and fun shopping experience.
This site offers a variety of products that are offered by individual sellers, which is why many of the items for sale are unique, original, or second-hand products. On its platform, this online store offers a variety of filters that allow you to find exactly what you are looking for, which can be by brand, size, price, color, or feature.
Pros:
You can find unique and collectible items
Bidding is a very enjoyable process and allows you to buy products for less than you think
It is a great platform to sell things you no longer need
Cons:
It may be difficult to know in advance the condition of the product. Many times, being unique objects, they do not have a return or exchange, and when buying you only have the word of the seller
Shipping times to EPS offices depend on the seller's capabilities
Etsy
Etsy is the best place for creative people who want to buy art and craft products. What you will like the most is knowing that each product you purchase is unique and has been created in detail for you.
You may not be able to find the latest fashion items on Etsy, but you can definitely find innovative items or you can turn your hobby into a business by selling the art they create.
Pros:
You find unique art that you will not be able to find anywhere else
You can support the work of artists and artisans
Cons:
Customer service is not great. It takes a lot for them to answer you
Wish
From the list we have so far, it's probably the most unknown platform, although you might recognize it from its many social media ads for weird or very cheap items. That is because it is indeed the case, Wish is the cheapest online store you will find, so if you are looking for something at very, very low prices, this is the place for you.
Shopping online can be expensive for some people, especially when you think about shipping costs from stores, but Wish offers a cheaper alternative, allowing you to save money when shopping online.
Pros:
Many of the products are shipped from China, which makes the products incredibly cheap, with values ​​going down to the dollar or cents
You can find amazing items that are not sold in the United States or that you will not find in any other store
Cons:
Shipments to the EPS store may take a long time, or may not arrive in the agreed time
Sometimes the product may not be what you expected, or the wrong product may be sent to you
You have to deal with sellers external to the sales platform, so the shopping experiences can vary a lot
ALIBABA
This conglomerate-consortium of companies is currently headquartered in Hangzhou (China). It is mainly a B2B (business to business) or Business to Business portal, whose mission is to connect Chinese manufacturers with distributors and buyers, both Chinese and foreign.
It has AliExpress, a low-cost product sales site that directly connects Chinese manufacturers with individual buyers around the world and is rated as the best Chinese online store.
Pros:
Affordable prices and possibly lower than what you can find anywhere else
No minimum order quantity requirements, therefore lower initial cost for merchants and entrepreneurs
Excellent buyer protection program, which reduces the chances of being scammed
Single shopping platform with a large number of sellers and products
Shipping: The big difference between stores
One of the most annoying things that can happen to you when shopping online is that it takes longer than expected. Sometimes our EPS clients call us worried about the delay of their purchases, thinking that it is due to us, but for this reason it is very important to know that in EPS the priority will always be that your packages arrive on time and in good condition.
Delays with shipments are almost always due to external issues to the company, such as delays by the American mail in making its deliveries to our Miami address, delays in the airlines that transport our packages or occasional events at customs. In fact, many times if your packages do not arrive on time, it is because the store is late in dispatching the package to our offices in the United States, because once they are received, our delivery promise is 3 business days.
That is why it is more important than ever that you choose stores and sellers that you can trust, so that your packages can be dispatched on time, and you see the value of your money reflected in the product you receive, and the most important thing is that always correctly enter your shipping address when ordering online with your EPS number in the address fields.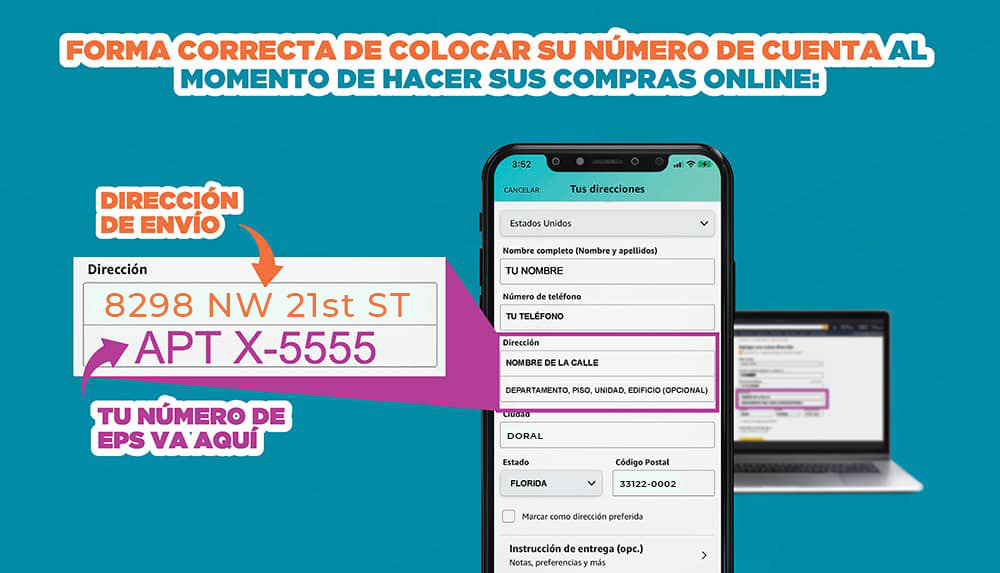 In any case, keep in mind that at EPS we are always here to support you. If you have any questions about the status of your package, you can write to us or check it yourself at www.eps.com.do with your tracking number or via our MI EPS app. If you need help shopping, remember that we also have a shopping advisory service, and that we can even make purchases for you, in the stores of your choice online with our EPS E-shopping service.