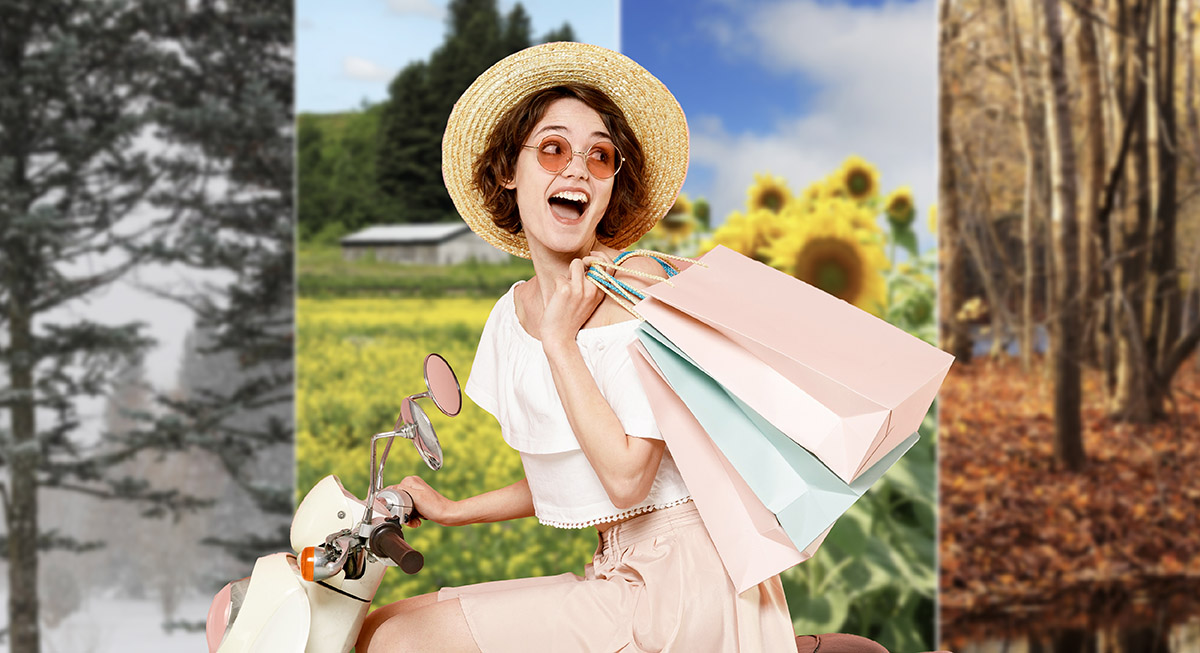 Wednesday October 12th, 2022
What are the best times to save money when shopping online?
Wondering when you might get more bang for your buck when shopping online? We're almost certain that the first thought that comes to your mind is Black Friday, followed by Cyber ​​Monday or Christmas Day. However, that would be wrong…
Black Friday is just one day out of the year, and no one can be expected to wait for this very specific date to make all their online purchases. That is why being aware of other special dates for sales and discounts can help you save on your online purchases throughout the year.
For instance, end-of-season sales are the perfect time to stock up on versatile clothing to update your wardrobe. These sales are guaranteed since every year businesses need to get rid of stock to make room for new items. With a bit of planning, you can take advantage of these sales to get certain higher-end items at a much cheaper price.
To make the most of the end-of-season sales, wait for January and July. In January (and until March) retailers usually put their remaining inventory on clearance, which makes that a great time to get those fall-winter items such as coats, boots, and winter clothing. The same happens in July (until September), when the spring-summer season comes to an end, and shoppers anything from bathing suits to summer footwear.
Oh, and there's also the so-called mid-season sales, that is: between March-June and September-November. Check them out too.
It should be noted that most online retailers charge shipping and handling, regardless of sales and deals. Others offer free shipping after a certain amount, and others simply offer free store pickup, which is the least convenient alternative if you're shopping from online stores in other countries, like the US.
At EPS we are always ready to help with your online purchases through our E-shopping service. You can request personalized advice to save on any product online. You don't even need to swipe a credit card; you can always pay in Dominican pesos using cash or debit.
This service is available year-round. All you have to do is visit your preferred EPS branch or location. And if you aren't already, you can also become anEPS member free of charge to start enjoying all the deals and discounts available online.
One last thing: Keep in mind that deals and discounts attract a lot of online traffic, so having a purchase plan ready to go can also help you make the best purchasing decisions and make the most of sale events.
6 tips to navigate end-of-season sales
This is our ultimate guideline for shopping online when seasons change.
Buy non-basic clothes. This is the best time of the year to get that suit you've been eyeing for months or that designer dress that won't ever be so heavily discounted (until next year.) Go for it!
Don't get carried away by crazy prices. You should always know what you are buying. Don't let retailers lure you to other items that won't necessarily fit your style or aren't worth the investment. Also, plan ahead for those outfits for next year, since you're buying out of season.
Take your time. It is better to spend a little bit more time online to look carefully for those items that interest you than rush into it and choose the wrong ones (think wrong size, color, etc.)
Make a list of the products that you really need, then set up your budgetand stick with it. Don't fall for impulsive or compulsive purchases.
Compare prices. Don't simply shop on the first website where you see a great offer. Look for similar items in other stores and you might find them at a lower price!
Find out about the return and order cancellation policies. It is likely that when deals and discounts are on, retailers will have different return and cancellation terms than those they regularly have, so confirm these details before placing your order.