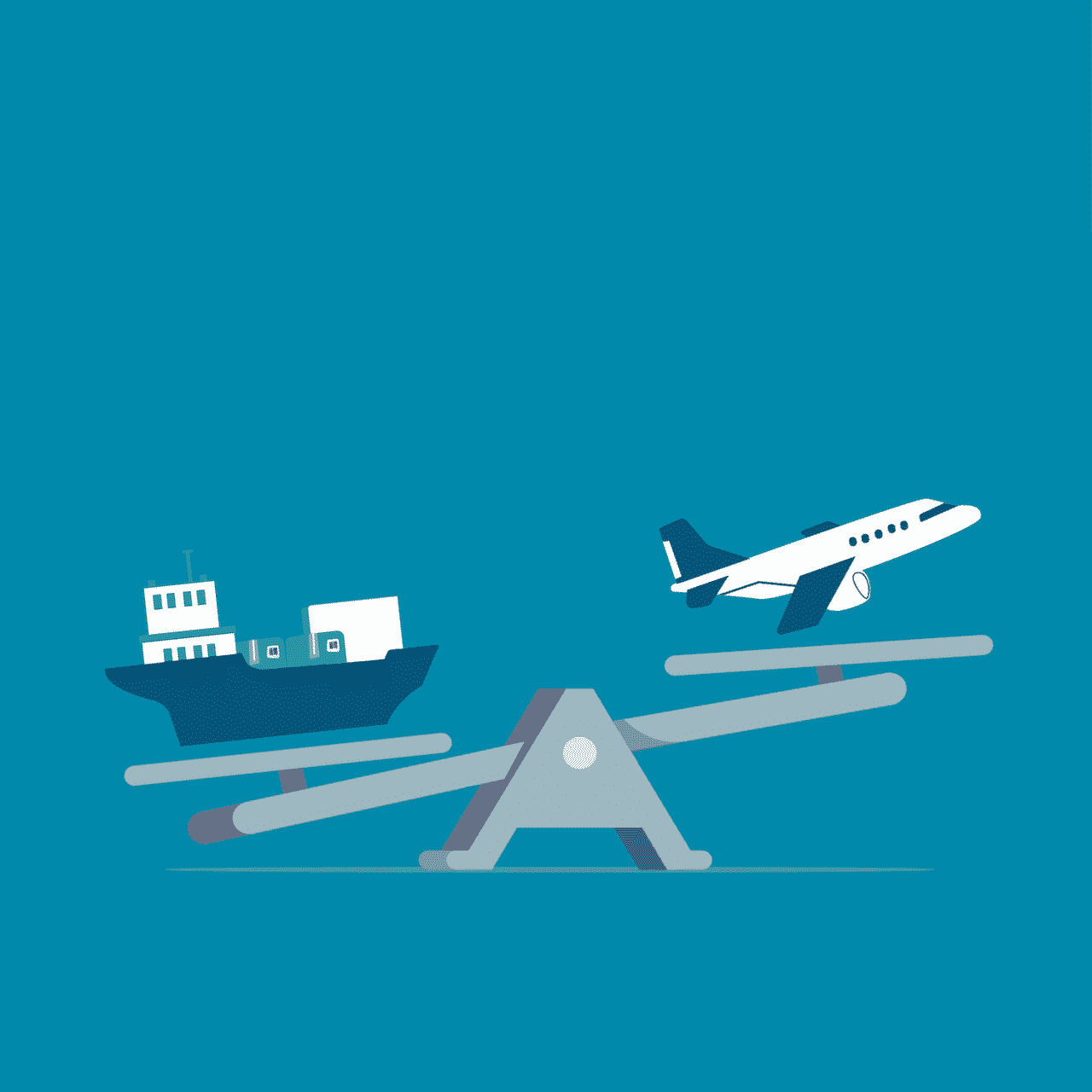 Wednesday September 22nd, 2021
Tell Me How Much It Weighs and I'll Tell You How To Ship It
Did you know that depending on how much the product you want to ship weighs, it is best to choose one type of transport or another? Today we explain how prices vary depending on the weight of the package and what the differences are between certain cargo services so that you know which one is best for you.
Types of cargo services for merchandise
Freight services vary by speed of transportation, cargo movement capacity, and average price per pound. When deciding which is the best option to transport your cargo, you must think about the relation between time and money.
Is the load greater than 100 pounds? Is the load greater than 800 pounds? Do I need it urgently or can it wait? These are some of the questions you can ask yourself to understand what type of cargo service is best for you: Air or sea cargo.
Air Cargo, EPS air service
Air cargo is knownfor its speed. It takes your shipments from the EPS offices to your door in a short time and at a better price. This service is available starting at 100 pounds.
This service offers:
Up to two weekly departures
Customs procedures
Consolidation of package
Free storage for up to 15 days
Sea Cargo
Sea cargo is known by its high weight and volume load capacity. However, the time it takes to transport from one place to another, for example, from the United States to the Dominican Republic, is much longer than the time it takes a plane to do the same route.
A convenient option for:
Oversized merchandise
Merchandise weighing more than 800 pounds
When you don't need to receive the package urgently
Remember that price varies according to the type of cargo service. Sea cargo is much more affordable than air cargo, but as we said, it also takes much longer.
EPS sea cargo service
At EPS we offer this service for heavy, loose, or containerized cargo for import or export from the United States or the Dominican Republic. It is available starting at 800 pounds. Along with this service we offer:
Consolidated merchandise in a container
Safety and punctuality in handling your merchandise
Weekly departures
Full containers
Filling of containers
Customs procedures
Merchandise insurance
Delivery from EPS offices to your door
Handling of delicate and dangerous cargo,as well as special equipment
Can you help me with customs management?
Yes, if you need help with customs procedures, we are here for you. We have vast experience with the Dominican customs authority, so we are happy to assist you with all customs-relatedprocesses, including tax payments and merchandise storage. Our goal is for you to save time and money in the collection of your merchandise so that you can receive your packages faster, with the confidence that comes from knowing that you are doing all the legal processes as you should.
Great! Is this all I need to know?
You already know the different ways you have available to ship your cargo through EPS! However, just in case these are not enough reasons to choose EPS as a Courier, we also have options to bring all your personal parcels from wherever you want, regardless of size or quantity.
So, let us give you one last tip about EPS: for personal parcels there is no minimum number of pounds. Do you want us to ship a button? A coin? a very small needle? We can ship it to you, no problem!
Don't you want to pay taxes for carrying something so small? calm! All orders valued under $200 dollars are tax exempt in Dominican Republic. We are not going to ask you to pay import duties on those knitting needles!
What if I need to receive something ASAP?
The EPS courier service for parcels and personal mailing is very fast, but if you still need to receive something urgently, don't worry, we have these options for you:
EPS Priority: Receive your package in up to 72 hours.
EPS Next Day:Do you need your package in a flash? Can't you wait 72 hours? For that situation we also have a solution. Choose our guaranteed delivery service from 24 to 48 hours. You just have to remember to pre-alert your package before noon so we can make sure it reaches your hands on time.
At EPS we understand that each person has a unique and particular life, with different needs, that is why we care so that each person can order or send packages with complete peace of mind. For us, the most important thing is that you know you can receive whatever you need, inshortest time, at an affordable cost, and with the greatest safety and care.