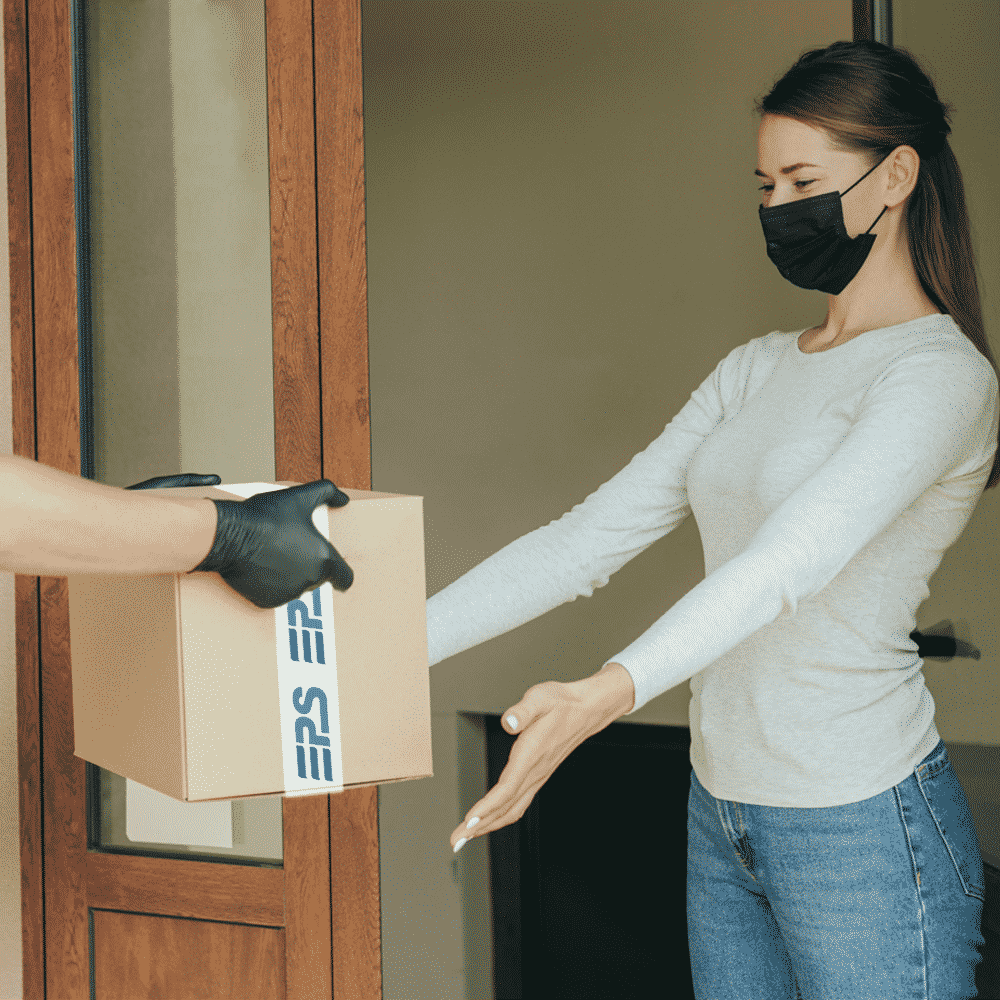 Friday August 6th, 2021
COVID-19: We embrace change and reinvent ourselves at EPS
It's been approximately a year and a half since the pandemic started, and little by little we are recovering some notion of what we consider "normal": more and more people are vaccinated, borders are opening, and health measures are relaxing.
However, there have been changes in our lifestyle that seem to be here to stay: the way we see the world, the way we relate to others, the things we choose as customers and how we do it, all seem to havetransformed forever. But how did this change come about?
Two meters or more of social distancing. Wearing masks and gloves. Disinfecting everything that comes into our homes. Meeting loved ones only outdoors. The health protocols that initially surprised us and, in some cases,even bothered us, have become part of our "covidianity", and a symbol of good coexistence in society.
Come on, surely you are one of those who see someone without a mask on the street or watch a movie where there is a crowd and people do things like putting their hands to their mouths or sharing a glass of water, and it seems strange and uncomfortable: A COVID alert automatically appears in our brain when we see images of a reality that no longer resembles our own. It happens to all of us!
It must be said:coronavirus changed our lives. And well, consumerism too. As all (or almost all) countries were forced to reduce the movement of people to control the spread of the virus, which included closing businesses. Therefore, so that an unsustainable breakdown of the economy did not happen, it was imminent to reinvent itself.
Online commerce is a great alternative
COVID-19 restrictions promoted an "increase in electronic commerce", as indicated by the United Nations Conference on Trade and Development (UNCTAD) in a report published on May 3, 2020, where they show that retail sales went from 16% to 19% in just two months.
Just two months! If you think about it, the transition to virtuality was impressively fast. Many businesses that had never even thought of opening a virtual store suddenly had to learn how to design their website, accept virtual payment methodsand, above all, coordinate shipments. But initial difficulties did not stop large and small businesses owners, who moved from face-to-face to virtual commerce in record time.
A survey entitled Covid-19 and electronic commerce, carried out by a group of cyber companies in Germany, Brazil, China, Russia, Italy, South Korea, South Africa, Switzerland, and Turkey, showed that more than half of respondents (about 3,700) "shop online more often and use the internet more to read the news and learn about health and digital entertainment."
"The COVID-19 pandemic has accelerated the transition to a more digital world. The changes we make now will have lasting effects as the global economy begins to recover" – Mukhisa Kituyi, UNCTAD Secretary-General.
Shopping online means no social distancing
The transition to online shopping had a very logical reasoning behind at first: going to stores impliedcrowds of people, an issue that could perfectly be avoided by sending products directly to consumers' homes.
Now, in the new normality, online shopping not only responds to a health-related issue: we do it because we discovered that it is the fastest, easiest and most comfortable way to buy. Not only because we don't have to leave the house, but also because through the internet we have access to things that were previously inaccessible to us due to distance. These days, products from all over the world are just a click away. That book you can't find in the country? A click away. That shirt sold in another city? You just have to hit the "buy" button. You can have whatever you want in record time since shipments and purchases on the internet have eliminated all limits and distances.
How does EPS ship packages?
For our customers who have purchases shipped by EPS, we will share part of our packaging process. Luis Meniccuci, our vice president, explains that "normally the transport (of the merchandise) within the United States takes about three to four days, which ensures that the article would no longer have the possibility of being contaminated, as in that time the virus can not survive."
This is confirmed by the World Health Organization, which says that "the risk of contracting the virus that causes COVID-19 through contact with a package that has been handled, transported and exposed to different conditions and temperatures is also low."
However, the product can be re-exposed to the virus since packages are handled at various points by different people each time. That is why EPS «is more vigilant and looks after its staff, permanently providing gloves and masks to protect them. In all our EPS offices, branches and warehouses, there are antibacterial gel dispensers and stations for taking everyone's temperatures upon entry," says Menicucci.
So, can we take masks off now?
No! Do not relax or let your guard down. As we know, stronger variants of COVID-19 have appeared in the last year, so it is very important to continue taking care of ourselves and others. In the event that you receive packages by courier, it is important to remember that the permanence of the virus varies depending on the surface, temperature or humidity of the environment, which is why the World Health Organization (WHO) recommends disinfecting surfaces with a solution of alcohol and water that has high effectivity at eliminating the virus.
On its website, BBVA Bank shares the explanation of the expert in epidemiology and preventive medicine, María Elisa Purón, who specifies that couriersshould leave packages at people's doorsteps. If this is not possible, people must keep their distance from the delivery person and wear a mask when receiving products. Also, she recommends that if it is necessary to sign an invoice or any other document, people should use their own pens.
And on that note, keep in mind that, if you want your purchases to arrive at your doorstep or office, our courier offers free delivery service from almost all EPS branches nationwide. But if you want to receive your package now, now, right now, and you don't feel like waiting for it to arrive, you can pick it up avoiding lines or waiting through our On My Way service, a prepaid option through our app or website, that allows you to receive your packages in a personalized way.
Are you still a bit lost in terms of online shopping? Don't worry, if you need help, you can contact one of our customer service agents through our EPS e-shopping service, so you can get advice on how to make your purchases without risks and take advantage of the best offers online.
The future is here, and there are no more excuses to make your purchases quickly and safely, of course, with EPS.