"Supporting the sustainable management of the environment and our natural resources is our commitment"
We are a non-profit entity founded by EPS to contribute to the conservation of natural resources and promote social development in the provinces where our company is present.
We implement diverse actions and collaborate with social, educational and sustainability projects that contribute to improving the quality of life of Dominicans.
THIS IS OUR MISSION
To contribute to the socioeconomic development of the country and the sustainable management of the environment and natural resources.
THIS IS OUR VISION
To become a benchmark organizationcommitted to achieving a more inclusive society that protects our natural resources by contributing to sustainable development programs and implementing renewable energies through investment in innovation and education and encouraging the development of local technologies.
THESE ARE OUR VALUES
Solidarity
Equity
Teamwork
Service
Environmental awareness
BOARD OF DIRECTORS
DINO FRANCISCO MENICUCCI MOREL – PRESIDENT
Economist with over a decade of experience in national and international banking. He was a co-founder of EPSin 1989, helping the company become a pioneer of courier services in the countryand maintaining its leadership in the market after more than 30 years. He has always been known for showing immense social sensitivity and empathy, selflessly helping those who need it most.
VIRGILIO MALAGÓN ÁLVAREZ – VICEPRESIDENT
PAULO GERALDO HERRERA MALUF – TECHNICAL DIRECTOR
PABLO ANTONIO VIÑAS GUZMÁN – SECRETARY
JAIME ALFONSO MORENO PORTALATÍN – TREASURER
"Our work is intentionally aligned with the SDGs"
The projects we develop are aimed at helping to achieveseveral of the 17 UN Sustainable Development Goals:
Goal 1: End poverty in all its forms everywhere.
Goal 3: Ensure healthy lives and promote well-being for all at all ages.
Goal 7: Ensure access to affordable, reliable, sustainable, and modern energy for all.
Goal 8: Promote sustained, inclusive, and sustainable economic growth, full and productive employment and decent work for all.
Goal 10: Reduce inequality within and among countries.
Goal 12: Ensure sustainable consumption and production patterns.
Goal 13: Take urgent action to combat climate change and its impacts.
Goal 14: Protect, restore, and promote sustainable use of terrestrial ecosystems, sustainably manage forests, combat desertification, halt and reverse land degradation, and halt biodiversity loss.
Our projects
The Dino Menicucci Foundation currently sponsors clean and sustainable energy projects, with technologies created and manufactured in the Dominican Republic, promoting initiatives of:
Sustainable management of natural resources
Prevention of deforestation in favor of water conservation
Charging stations to promote electric mobility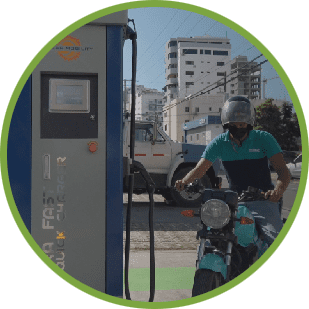 Ultrafast charging station for electric vehicles
Fastest charger in the world.
Functional capacity for two-, three- and four-wheel vehicles.
Very high performance in comparison to other solutions available on the market.
Simple installation, operation, and maintenance.
Possible local manufacturing.
SUNAGE: Ultraefficient electric stove
Only uses 15% of the energy that a conventional electric stove requires.
System provides enough energy to cook for 4 hours.
Easy to manufacture, assemble, and maintain.
Manufactured locally in the Dominican Republic.
Aligned to help achieve the UN Sustainable Development Goals (SDGs).
System works with or without electricity